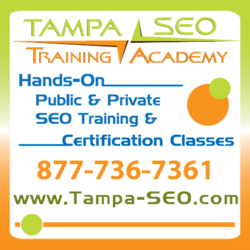 Tampa, Florida (PRWEB) November 25, 2011
The Tampa SEO Training Academy, a Licensed Associate Member of the Search Engine Academy, announced today special "Black Friday" pricing for seats at their next SEO Training Courses scheduled for December 2011. With a 2-day, 3-day and 5-day option, each hands-on class offers a stress free way to learn powerful "white-hat" SEO insider techniques designed to enhance any businesses ability to be found at the top of the search engines.
Not only do participants get 6 months of mentoring after class ends but now those seats come with a 25% "Black Friday" discount. That means participants can save up to $ 625 off the retail costs of these award winning SEO training workshops.
"Unlike traditional 'push marketing', effective search engine optimization 'pulls in' visitors who are searching the internet for products and services that you sell but who may not have heard of your company or website," remarked Steven Scott, CEO & Director of Training at The Tampa SEO Training Academy. "Whether you're a business owner, an entrepreneur, a web designer, a current SEO professional or someone looking to start a new career, our courses are designed with all skill levels in mind to ensure that every student leaves with the tools they need to achieve their online marketing goals."
The "2-Day SEO Basic Essentials" course provides a step by step immersive system for gaining top web visibility and exposure. The "3-Day SEO Advanced Techniques" course focuses on advanced keyword research and creating effective sales copy, in addition to touching on various other foundational topic areas like blogs, user generated content, social media, PPC campaigns, website analytics and log analysis, to name a few. The "5-Day SEO Mastery Skills" course is a combination of both the 2-day and 3-day courses, offering attendees a comprehensive set of actionable key learning's that can be immediately employed.
"Our SEO training classes truly are hands-on in the sense that every participant will have an opportunity to review their website with the class, applying topics and techniques that have been discussed and receiving valuable feedback and tips on improving their site's organic search ranking," noted Scott. "At completion, each student receives a Certification Award, and as an added bonus, attendees also receive Tampa SEO Training Academy's six month Mentoring Program at no additional cost upon completion!"
To receive the special "Black Friday" discounts, attendees must register before December 2, 2011 and use promotion code DEC2011BF when registering online or they must mention the discount code if registering by phone. For complete course descriptions or to register for one of the December classes please visit the Tampa SEO Training Academy's Registration page or call 877-736-7361. The promotional code is only good for classes running between December 5, 2011 and December 9, 2011. Additional class dates through 2012 can also be found.
About the Tampa SEO Training Academy

Steven Scott is the CEO & Director of Training at the Tampa SEO Training Academy a licensed associate of Search Engine Academy, offering live hands-on search engine optimization training workshops in Tampa to individuals and businesses. Steve has trained and consulted with Fortune 500 companies for over 20 years and has taught SEO skills to people from around the world. Private SEO training classes and consulting are also available. For more information about Steve or the Tampa SEO Training Academy, visit http://www.tampa-seo.com or call 877-736-7361.
About the Search Engine Academy

The Search Engine Academy has been offering SEO training to people just like you all over the world. Thousands of people have implemented our proven six-step system and seen results for themselves, over and over again.
###