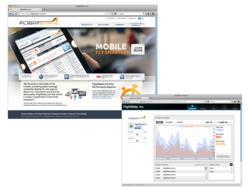 Portland, OR (PRWEB) August 19, 2011
Interactive design and marketing firm SightWorks has announced the launch of their powerful Digital Marketing StudioTM (SightDMS) in conjuntion with the new FlightStats, Inc. website (http://www.flightstats-inc.com). SightDMS represents a new era in user-friendly Content Management Systems, allowing client control of not only their website content, but a full-service online marketing solution.
The FlightStats, Inc website features up-to-the-minute feeds from FlightStats own twitter feed, plus news from other sources, and instant access to Facebook and other social media. SightDMS was the answer to their need to champion the brand and share information about FlightStats comprehensive product portfolio for the travel industry.
With SightDMS, SightWorks put the power into the hands of FlightStats marketing head, Keith Gerr. Through the newly launched site, Gerr is also able to manage product demos, images, news feeds as well as track social media and website analytics. "The SightWorks backend was really easy to pick up and just use. We've been able to painlessly update our website in minutes without having to rely on an agency or internal development resource. In addition, the SightWorks team has been great to work with; from planning to training, they've been very responsive."
The Digital Marketing StudioTM is SightWorks answer to the needs of digital marketing managers worldwide, combining their need to centralize marketing assets and cross-promote across current social networks, mobile, and digital channels easily. In tandem with SightWorks Agency on DemandTM services, the DMS provides a full-service online marketing solution unlike any other available today. SightDMSTM acts as the digital marketing hub and streamlines content publishing, putting the control back into fingertips of the marketing manager.
Since 1997 SightWorks has been helping businesses realize their digital marketing goals through award-winning web design, intuitive and innovative web, mobile, and social applications, dynamic e-commerce solutions, and individualized internet strategy. Clients include Adidas, Ronald McDonald House Charities, Cisco, General Electric, Hungry Man TV, and Providence Health Care Systems.
###
Find More Website Analytics Press Releases